Hurtubise Façades
Transforming architecture:




Innovative Facade Solutions
Aluminum boards
Divided in two categories, namely folded aluminum, and extruded aluminum boards, both of these siding solutions are manufactured with the same amount of care and professionalism as every product transiting through our facilities.
OUR CUSTOMERS' FAVOURITE: THE SH-13 BOARD
SH-13 is a robust architectural board built out of 2 mm (0.078") sheets of 5000 series high-grade aluminum, and which can be installed both vertically and horizontally. First, our state-of-the-art robotic assembly line takes care of folding all SH-13 boards. Second, they are pre-drilled (when needed), before moving on to the electrostatic powder coating stage.
SH-13
Siding board for drained and back ventilated rainscreen systems
 SH-09 is a plank-like siding entirely designed out of ultra-strong extruded 6063-T5 series aluminum. As its name suggests, it is moulded out of a single piece of metal into a 1.6 mm (0.063") plank. With absolutely no folding, this product presents a very distinctive look and texture.
This technique produces an incredibly sturdy cladding solution, and creates fewer joints than most profiles, thus reducing water infiltration risks organically.
SH-09
Siding board for drained and back ventilated rainscreen systems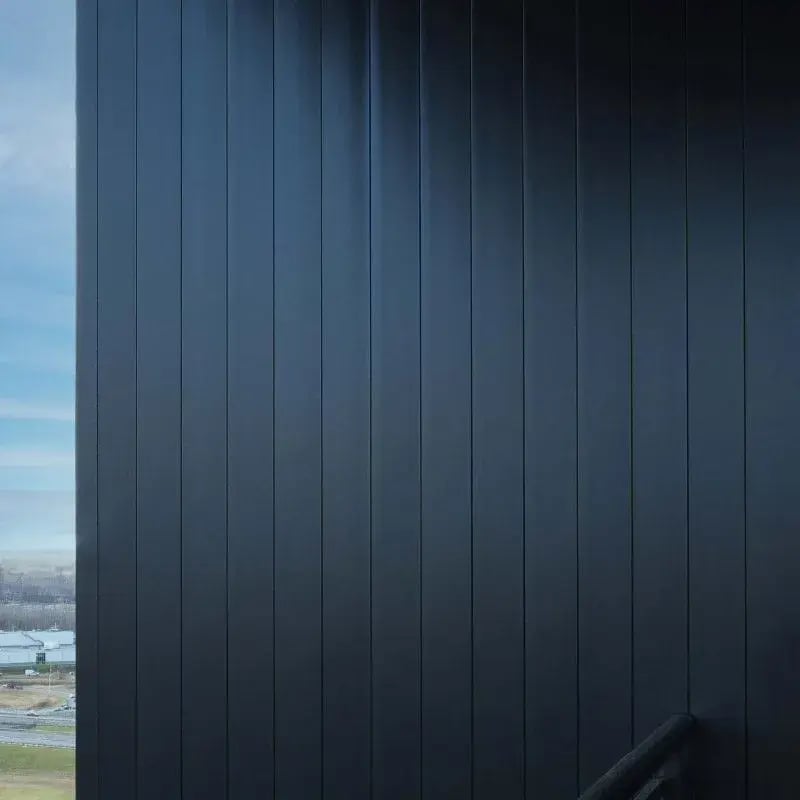 Personalized Support
Once you embark on a project with us, we assign a dedicated point of contact who will be available throughout our collaboration. This enables us to establish a stronger relationship with you, gain a better understanding of your requirements, and efficiently address any inquiries you may have.
On-site Delivery
Simple, fast and without intermediaries! With our direct delivery service, you can choose the precise moment when you'll receive your custom cut, sorted, and identified order.